Polaris
POLARIS precision laser triangulation gauge for the steel/metals industry
Scantron is an established supplier of the POLARIS series, high-precision, robust and flexible laser sensors which were designed specifically for use within the demanding steels and metal industry.
The POLARIS Series of triangulation sensors are highest-precision laser sensors available for measurement of displacement, distance or height, width or thickness when combined in pairs.
The intelligent signal processing controls exposure of the CCD array and laser power in real time, resulting in excellent dynamic behaviour regardless of varying colour, reflectivity or texture of the target, making them a solid choice for integration for online or offline measurements.
Precision measurement
The POLARIS series uses the triangulation principle to offer very quick, very precise non-contact surface measurement across a number of considerations, including displacement, width, thickness, flatness and completeness.
The LAP laser sensor can measure several quantities, handle several variables and deal with several values, making it useful across a number of applications. These include measuring of sag and buffer loop, thickness measurement against the roll, and multi-track differential thickness measurement for strip, web and boards.
POLARIS SERIES FEATURES
4 kHz measurement
Repeatability from 0.4 µm, depending on model
Uncertainty from 1 µm, depending on model
Measuring ranges available 10, 30, 70, 130, 250 and 400 mm
Standoff distances 50, 100, 190, 220, 380 and 440 mm respectively
RS485 output, convertible to Ethernet/USB/other
Wavelength 670 nm
IP65 enclosure
Condition range 0-40 °C, non-condensing humidity
To find out more about the POLARIS range, find out more about the various options available or to discuss your specific needs in more detail, contact us today.
Downloads
| | | | | | |
| --- | --- | --- | --- | --- | --- |
| | Measuring Range (mm) | Stand Off (mm) | Resolution (μm) | Repeatability (μm) | Linearity (μm) |
| Polaris 10 | 10 | 51 | 0.2 | ± 0.4 | 7 |
| Polaris 30 | 30 | 100 | 0.5 | ± 1 | 20 |
| Polaris 70 | 70 | 190 | 1 | ± 1.5 | 45 |
| Polaris 130 | 130 | 220 | 2 | ± 3 | 85 |
| Polaris 250 | 250 | 380 | 4 | ± 7 | 150 |
| Polaris 400 | 400 | 440 | 6 | ± 10 | 250 |
| | |
| --- | --- |
| General Data | |
| Laser type, wavelength | Diode, 670 nm (red) |
| Laser power, class | 1mW, 2 |
| Measuring frequency | up to 4KHz |
| Interfaces | RS485, Analogue 4-20mA 112 bit resolution |
| Interface Modules | RS232 ASCII, Ethernet UDP, Profibus DP |
| Power supply | 24VDC, 100mA |
| Enclosure rating | IP 65 |
| Dimensions | 39 x 109 x 168mm |
| Weight | 1100g |
| Operating conditions | 0 – 40°C / 35 – 85% rel. humidity, non-condensing |
Extremely high resolution (down to 0.2μm/7.9μin)
Self-contained, compact housing
Fast measurement (up to 4kHz)
Very high precision on virtually all surfaces
CCD line array with powerful built-in DSP
Programmable filter functions
Flexible interfacing options
Bar material (endless/piece): distance, width, thickness, straightness, longitudinal profile, cross profile.
Web material and boards: distance, width, thickness, flatness, longitudinal profile, cross profile, sag
Materials on drums: diameter, face profile
Other examples: position, alignment, deflection, sag, concentricity, clearance, runout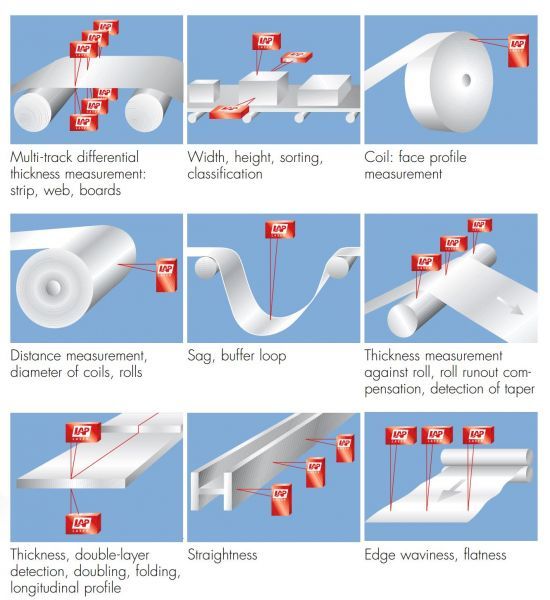 Adjustable sensor mounting bracket
Discrete outputs (2), opto-isolated, programmable
Individual measuring distances and ranges on customer request
Air purging housing to keep sensors clean and cool
Customer-specific software
Panel and large displays